Pamela Karimi
The 1960s witnessed a transformative shift in the recognition of the human impact upon the Earth's ecosphere. In The Silent Spring (1962), the American biologist Rachel Carson drew attention to the devastating consequences of human intervention on nature, focusing on the effect which the pesticide DDT had upon wildlife and humanity. Unprecedented in her own time, Carson's book initiated a revolutionary path, which was then followed by other scholars and activists who sought to protect natural resources and maintain a healthier relationship between humanity and natural resources.
Subsequently, a wide range of creative endeavours ensued. Many designers, for example, began to image and imagine the possibility of a world, in which human beings were divorced from their natural settings. Others contemplated how humans could live together with nature in a more sustainable way. Sustainable design occupied the minds of many authors, including Ian McHarg, whose De sign with Nature (1969) encouraged urban planners to create environmentally-based master plans for a number of American cities. Eco-architects came to harmonize buildings with nature, by learning from successful examples of traditional construction methods, and by reducing energy consumption and carbon footprints at each stage of the construction process. Meanwhile, two major artistic trends, known as Earthworks and Land Art, revolutionized the world of visual arts. Taking art outside of conventional museums and galleries, many artists began to implement their creative work in far-off and uninhabited natural settings. Due to their inaccessibility and oft-ephemeral nature, most of these works are known mainly through their (aerial)photographic records that over time attained a fine-art pictorial quality. Notable examples in this vein include, Dennis Oppenheim's 1969 Concealed Crop, a giant "X" plowed into a vast wheat field in the Netherlands, or Robert Smithson's renowned Spiral Jetty (1969-70), a monumental coiled form of black rock, salt crystal, and earth embedded into the shallow waters of Utah's Great Salt Lake.
Yearning for "real impact," rather than merely creating intriguing aerial-photographs, artists like Helen and Newton Harrison subsequently applied the principles of ecological systems to living species and their habitats throughout the lithosphere, atmosphere, biosphere, and hydrosphere. For example, after realising that topsoil was endangered world-wide, they began to make earth from scratch. They gathered many raw elements and then mixed and watered them over a four month period until it had a rich, natural smell and could be tasted in a series of performative acts. Departing from a strong preoccupation with the pictorial and formal characteristic, what distinguished these groups of eco- and environmental-artists from their Earthworks and Land Art counterparts was how they embraced functional ecological system restoration, as well as socially-engaged, activist, community-based interventions. Indeed, this latter group of artists were able to forge new representational and performative practices to reveal the social significance of our ecosphere. Their activist-like efforts have continued to hinge on broad socio-political issues, including the ways in which ecological and economic structures intersect, or how environmental justice can be brought to the attention of politicians or the general public. Through their works they have tackled the very many consequences of multiple forms of human intervention in nature. Indeed, just as how in the 1960s the toll which DDT had upon avian populations worried Carson, today we must worry about countless other environmental disasters, including the rise of anthropogenic climate change and the irrepressible usage of genetically modified organisms by agribusiness.
In 2000 Paul Crutzen and Eugene Stoermer coined the term Anthropocene—a phrase meant to capture the intense and perpetual effect of human activity on the ecosphere since the early- seventieth century when humans began to measurably impact the natural carbon cycle in the Earth's atmosphere, oceans, and ice (Monastersky, 2016). Since then the focus on human intervention in nature has shifted (Crutzen and Stormer 2000). At stake are those effects that are derived from technological, economic and political decision making processes, reckoned in various fields from agribusiness to petro-politics or the capitalist logic of the global oil market (see, for example, Mitchell 2011). Because of its implications in all aspects of life, the concept of the Anthropocene has made its way into a number of non-scientific fields, including the arts. Noteworthy among contemporary artists who have focused on this topic is the Argentinian artist, Tomás Saraceno. Inspired by the concept of the Anthropocene, in the past fifteen years Saraceno has generated several large-scale works, including cloud cities and solar museums (Saraceno, 2016). Identified as a "monument" to the Anthropocene, Saraceno's Museo Aero Solar, invites visitors to melt the edges of reused plastic bags in an act that "embodies an ethos of care and generosity, transforming waste plastic from the iconic material of the 'bad' Anthropocene into a shared aerial canvas for a possible 'good' Anthropocene" (Saraceno, Engelmann and Szerszynski 2015). The result is a floating museum that inflates and rises, flying from one place to another where it will be mended and launched again by the laymen.
The Anthropocene demands more in-depth considerations from creative agents in those parts of the world, where the ecosphere is at a higher risk. Indeed, a consideration of the role of art and the Anthropocene in the context of oil-rich but arid regions of the Middle East is all the more vital.
For centuries, Middle Eastern poets, designers, and visual artists honored nature and natural resources in their respective works (from water and wind to flora and fauna of the earth). Consider, for example, how over centuries Iranian architects developed design strategies in response to the geographical and climatic aspects of different provinces. Buildings on the northern slopes of the Alborz Mountains and the shores of the Caspian Sea featured sloping roofs which were elevated to avoid flooding, while in arid areas most buildings contained flat or domed roofs and vaults constructed of mud and durable baked bricks. Unlike northern homes, most desert structures were inverted, with rooms arranged around central courtyards, complete with wind-catchers and ice-storage houses to alleviate the harsh conditions of desert life. Not only were most traditional houses built according to climatic and geographical features, they were also self-sufficient micro-communities that raised vegetables and livestock. The importation of Western building technologies suppressed these sustainable design methods. Air conditioners replaced the wind-catchers, imported electronic refrigerators left no room for the traditional ice-storage houses, and readily available consumer products in the market eroded the economic self-sufficiency of the traditional house.
Similarly, unlike traditional craftsmen, the region's modernist artists became less ambivalent towards sustainable and environmentally-friendly art practices. In fact, with the exception of a handful of artists—including, for example, Marcos Grigorian, who was inspired by the Earthworks movement as well as artists who merely represented the fauna and flora of the earth—there are no significant bodies of Iranian or Middle Eastern artworks from the twentieth- century dedicated to issues of ecology, sustainability and the Anthropocene. Considering the massive emphasis placed on the topic of the exploitation of natural resources of the Middle East among policy makers, this oversight from a generation of Middle Eastern artist community is unjustified. In the twenty-first century, however, we are seeing a growing interest in environmental and ecological issues. This is particularly noticeable in the work of artists from endangered environments. In Tehran a mass of over 3 million gridlocked cars, spitting out toxic exhaust, has not only threatened people's health, but also covered all buildings with a thick layer of gray soot. The compelling experience of seeing the vestiges of nature amid the gritty streets of Tehran is reflected in the participatory art project of the installation artist Hooman Mehdizadeh-Jafari (Figures 1 and 2). Havadar-e koochak or The Little Airborne—which also translates as the little enthusiast— is a gigantic, site-specific installation of 52000 "found" plastic-toy-cars painted in blue and white and arranged in unison to depict the peak of Mount Damavand. Located to the north of the capital, the peak is the highest in Iran and the Middle East and is almost always covered with snow, which naturally makes it all the more discernable from every corner of the city. However, the towering mountain is often obscured due to a faintly acrid orange haze caused by automobile emissions.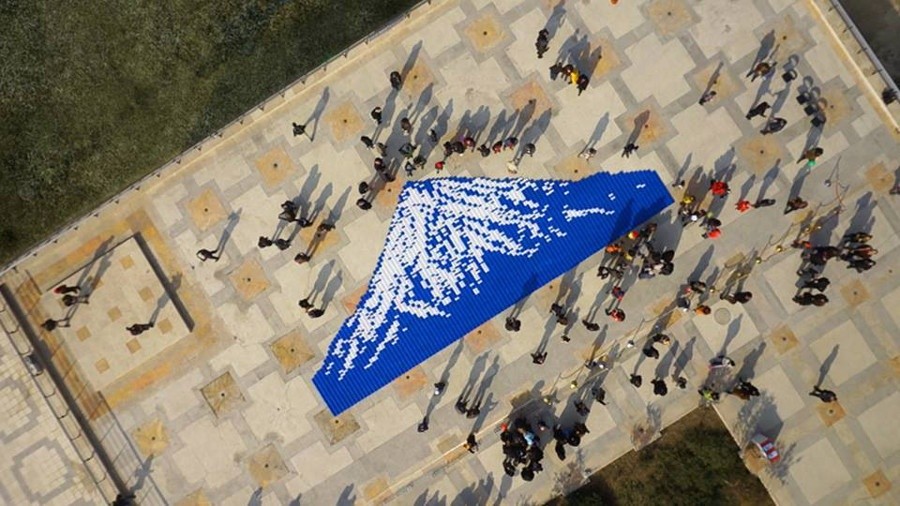 Figures 1 and 2. Aerial views of Hooman Mehdizadeh-Jafari's havadar-e koochak (Little Airborne). Photographs courtesy of Mani Lotfizadeh and Khalil Emami.
It is in light of this emerging interest in eco-art among young Iranian artists that this year's Persbook competition is centered on the theme of the Anthropocene. Selected out of a competitive pool, the artists in the show use their imagination as well as first-hand knowledge and direct experience to call attention to the overwhelming cost of misusing natural resources in the Middle East. Using diverse media to communicate their messages, both the selected and the additional group of invited artists address a variety of environments and ecologies in the region, from the arid lands of the Gulf to the mountainous and lush areas neighboring the Caspian Sea. Tackling a wide-range of socio-political themes, from home-economics to petro-politics, they also speak to the broader implications of human intervention in nature.
The intention behind this show is not necessarily to comprehend the multiple facets of the discourse of the Anthropocene, nor is it meant to reveal all the potential lines of inquiry which this term incites. Rather, the exhibit offers a conceptual lens through which to consider better solutions for the future. Above all, it is meant to show how art is an essential tool in acknowledging the importance of the Anthropocene.
Works Cited
Monastersky, Richard, "Anthropocene: The human age," Nature News, 2016, See further, http://www.nature.com/news/anthropocene-the-human-age-1.17085 (accessed February 20, 2016).
Crutzen, Paul and Eugene Stormer, "The Anthropocene," Global Change Newsletter 41.1 (2000): 17-18.
Mitchell, Timothy, Carbon Democracy: Political Power in the Age of Oil (London:Verso, 2011).
Saraceno, Tomás, Personal Artist Website, See further, http://tomassaraceno.com/ (accessed February 02, 2016).
Saraceno, Tomás, Sasha Engelmann and Bronislaw Szerszynski, "Becoming Aerosolar:
From Solar Sculptures to Cloud Cities," in Heather Davis and Etienne Turpin, eds., Art in the Anthropocene: Encounters Among Aesthetics, Politics, Environments and Epistemologies (London: Open Humanities Press, 2015), 57-62.